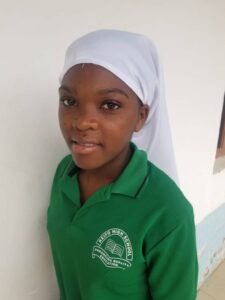 Dragonfly Global Cooperative has awarded its first scholarship for the 2021 academic school year. Dragonfly partners with KEIFO School in Southern Tanzania to help girls attend and complete high school.
Meet Miriam
Congratulations to our recipient, Miriam. Sixteen-year-old Miriam is from Kasumulu, Tanzania, near the Malawi border. In her family, she also has four brothers and one sister.  Miriam's dad, Fredy, is a farmer and entrepreneur. Her mom, Happy, is a pastor at the Arise and Shine Ministry in Kasumulu.  Because Kasumulu is too far to travel back and forth each day, Miriam is a boarding student at KEIFO Secondary School.
Miriam likes STEM classes in math, physics, chemistry, and biology. She aspires to be a doctor and is an excellent student. When she is not in school, she likes to read novels and play games.
Miriam is one of 11 girls who would not otherwise have been able to continue school without a scholarship. We are honored to assist her in continuing her education and aiming towards her dream of becoming a doctor.
Going to School in Tanzania
A child in Tanzania has a 15% chance of graduating from high school.  This percentage is even lower if you are a girl. In addition to cost, transportation is the most significant hurdle to continuing to attend school. A child might walk for multiple hours to attend school each day.
Dragonfly Global Cooperative promotes kindness and connectivity, amplifying ideas across communities through seemingly small acts that cumulatively have a big impact.  Our current project is to help girls attend school in Tanzania.
Help us give 4 more scholarships
While we were able to award one scholarship for the 2021 school year, our goal is to award five scholarships for the 2022 school year. Please consider helping us by donating here. Any amount is appreciated, and if not, we are also always grateful if you are willing to share our story with your community.